Strategy and Sustainability
A reference point for all our Stakeholders, people-centric approach, Net zero emissions by 2040.
The Bank's Ambitions for the Next Three Years
Banca Generali's 2022-2024 Strategic Plan starts from the solid foundation built in the different phases of our development and aims to take full advantage of the favorable momentum in the financial advisory industry.
With this plan, we set ourselves the ambition to embark on a further phase of rapid, profitable and remunerative growth for shareholders, in continuity and improvement on the excellent results we have achieved to date.
The Three Pillars of our Strategy
Our strategy to achieve this ambition is based on three pillars, deeply rooted in the Bank's Vision: to be the No. 1 private bank by value of service, innovation and sustainability.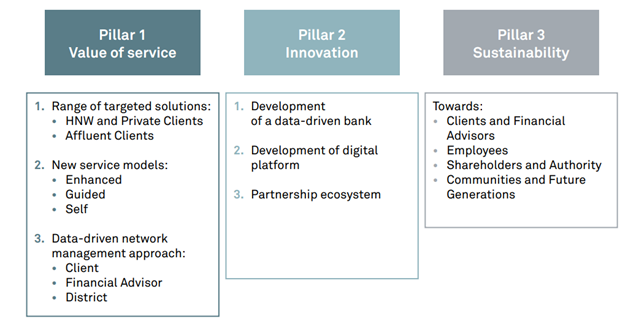 With the first pillar of our strategy, we aim to increase the value of service, getting us closer to our Financial Advisor network and clients.
With the second pillar aim to increase innovation in our model by building a data-driven, digital and open Bank.
With the third pillar we aspire to strengthen our positioning in terms of sustainability: our goal is to be the benchmark in ESG for all our stakeholders.
Our commitment to sustainability
Our sustainability strategy is based on four strategic guidelines addressed to our key stakeholders: Clients and Financial Advisors, Employees, Shareholders and Authorities, Community and Future Generations.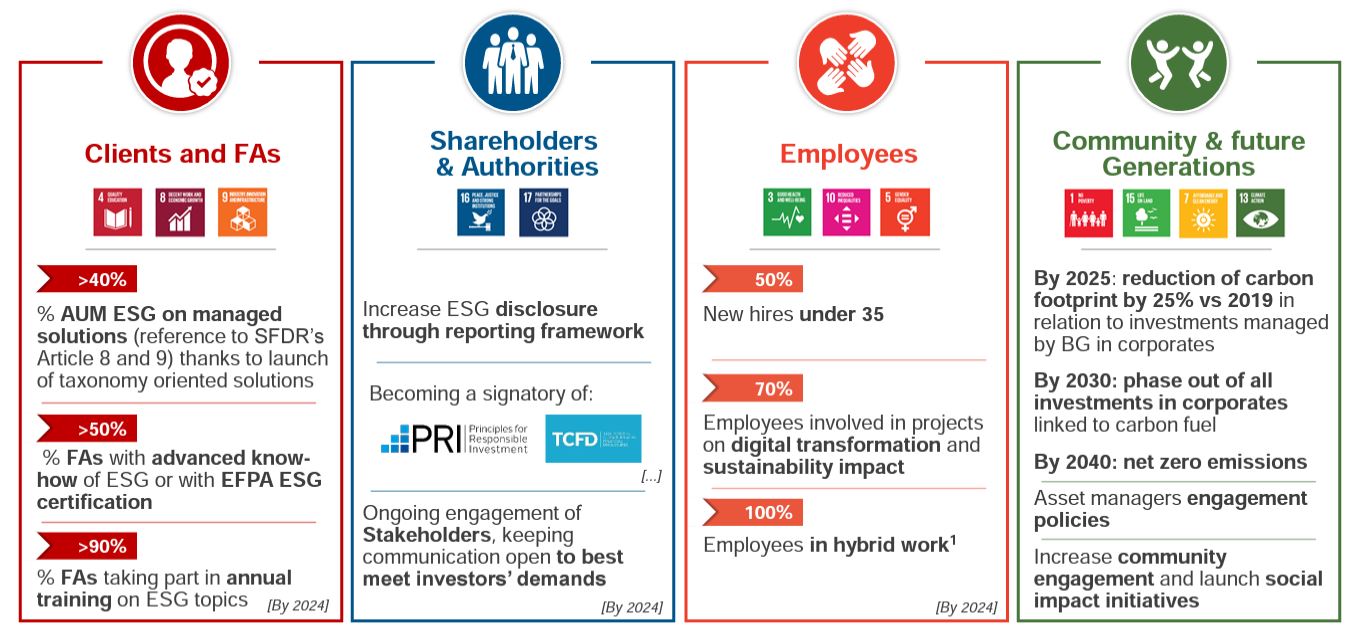 We aim to further strengthen our sustainability-related business approach. At the end of 2021, we reached €6.5 billion in assets invested in ESG products linked to the UN SDGs, representing 14.6 percent of managed solutions. By 2024 we are targeting to increase this percentage to 40 percent. We are aware of the importance of spreading a culture on sustainability, and it is with this mindset that we have launched specific ESG training programs for our Network of Financial Advisors.
We have a set goal of having 50% of our Network with advanced training on sustainability topics by 2024: we aim to achieve this goal also thanks to a course we organized in collaboration with PoliMi, preparatory to obtaining EFPA ESG certification. Finally, we will target to have 90% of our Network participate in specialized courses on ESG topics.
We have structurally adopted initiatives to promote a stronger work-life balance and a Diversity Equity & Inclusion (DE&I) policy.
We have set the goal of targeting at least 50% of new hiring to people under the age of 35 and to further put in place initiatives to ensure an inclusive environment with respect to all types of diversities.
We also aim to involve 70% of our People in specific projects related to digital and sustainability. Lastly, 100% of our People will be able to benefit from a 'hybrid' work model (except for sales and front-office staff).
We confirm our commitment to transparency of both financial and non-financial information.
As regards international initiatives, our purpose for the next three years is to join the Principles for Responsible Investment (PRI) and to the Task Force on Climate-Related Financial Disclosures (TCFD).
We have committed to doing our part on an issue of increasing relevance and urgency, climate change.
For this reason, we have set some challenging targets on climate related goals, such as reducing our carbon footprint by 2025 to 25 percent from 2019 levels in relation to corporate securities in managed solutions and have set an interim target to complete phase-out from coal for all corporate investments by 2030.
We have also renewed our commitment to achieving zero net emissions by 2040. Finally, we will proactively reach out to local communities with social impact initiatives.
Among our financial services, we promote sustainable investments and support our clients in building portfolios that can take into account personal ESG sensitivities.