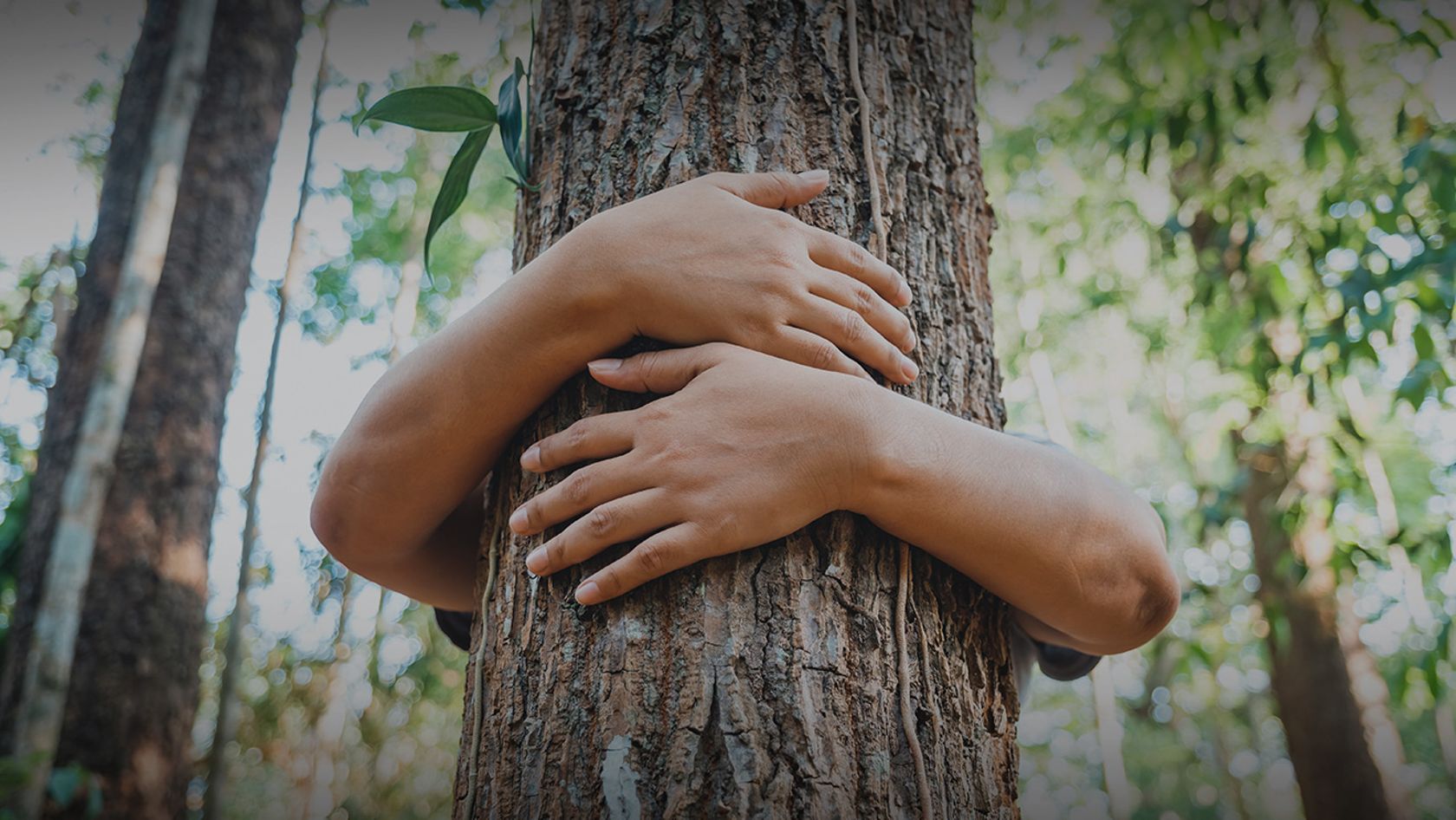 Our people
We value people, we promote diversity and we invest to promote lifelong learning and professional growth by creating a transparent, collaborative and accessible working environment.
People are one of the five pillars of the 2019-2021 Strategic Plan launched by Banca Generali and one of the key elements on which the Banking Group bases its pursuit of its strategic objectives.
Accordingly, in 2020 close attention continued to be devoted to investments in the development, growth and management of individuals, by spreading a company culture founded on shared values, leveraging diversity and inclusion.
In order achieve these goals, in coordination with the Generali Group, in February 2019 a new People Strategy was launched that takes account of the Bank's mission and values, the new strategic plan designed for growth and sustainable development, and the Bank's organisation, while also continuing to pursue the ultimate goal of creating value over time for all of our various stakeholders and developing the Human Capital.
The five pillars of the People Strategy (Culture, New Skill Development, Leadership and Talent and Organisation) are also challenges that Banca Generali has set for itself and will undertake in the coming years for sustainable growth.
At the end of 2020, Banca Generali's workforce amounted to 962 staff, of which 49% are women. 97% of the Banking Group's employees worked within the Italian territory. The remaining 3% was based in Luxembourg.
Discover more on our People Strategy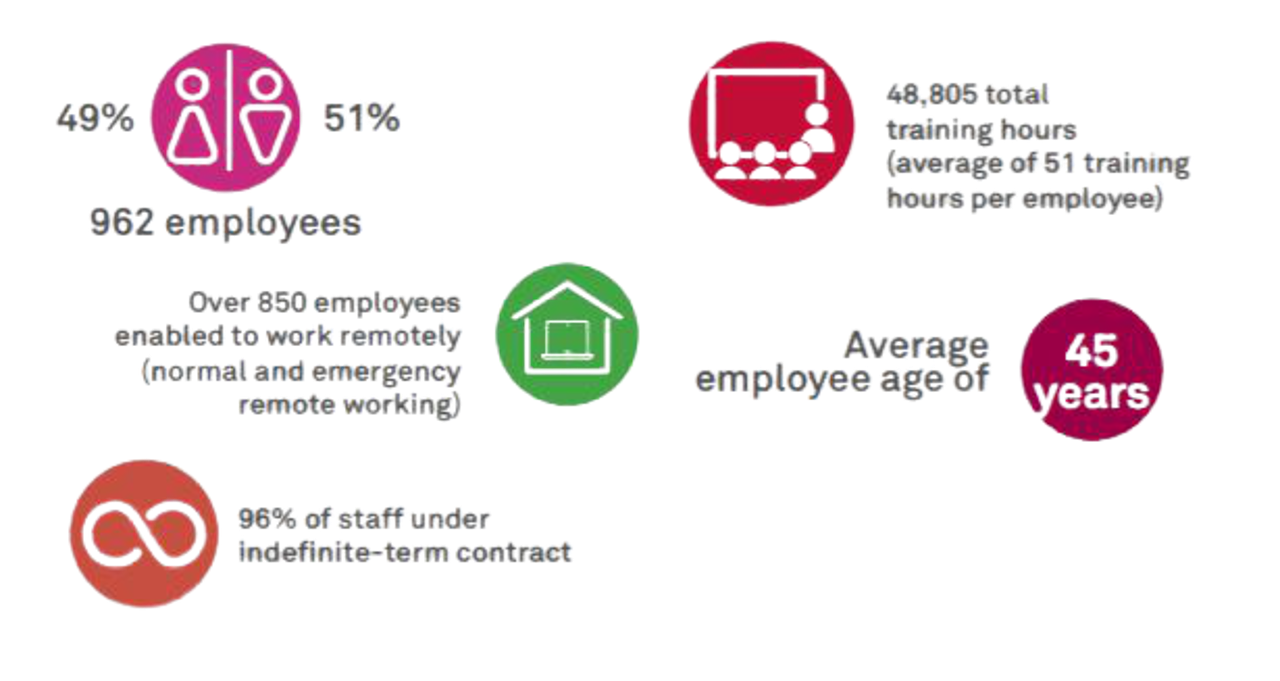 Employees by Geographical Area
Culture
Spreading the values of inclusivity, diversity and customer-centricity
Skills
Developing new skills to meet the challenges posed by the market and the needs of our customers
Leadership & Talent
Reinforcing managerial skills to ensure the Bank's sustainable growth
Organization
Simplifying processes and identifying new working models
Excellence
Enhance the talent and performance of our employees.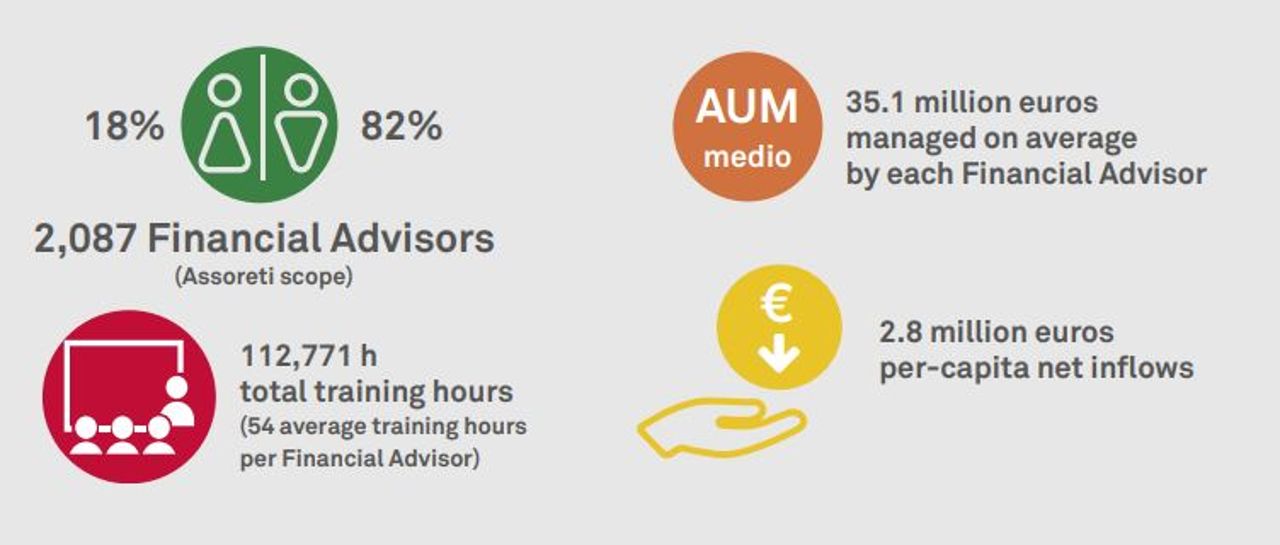 The quality and efficiency of the sales network determine the customer satisfaction level.
Since they work in a sector where reputation is the most valuable asset, Financial Advisors play a very delicate role.
The utmost attention is dedicated to the human and professional profiles of these expert collaborators that are at the service of customers.
Besides the most modern technology, the advisory relationship represents the heart of the services offered by Banca Generali to meet increasingly complex needs that require bestow solutions.
This is why a special focus is placed on Financial Advisor selection and their subsequent professional growth.
At the end of 2020, our distribution network, entirely located in Italy, had 2,087 employees, 82% of whom were men and 18% women.
Banca Generali believes in employee training as a fundamental resource to support the Company's success and competitiveness, in the short and long term.

The personal and professional growth, the improvement of skills, managerial and technical, of our employees are fundamental pillars to achieve the challenging objectives of the strategic plan.

Training programmes is carried out in constant and continuous paths over time, in line with the needs and talents of people to orient them towards responsibility and individual motivation, in line with the values of the company.

Offering quality training, whether in the classroom, at a distance through the realization of webinars or in e-learning, is the prerogative to support the development of all employees.
Among the training activities for the benefit of our employees we find programmes to develop managerial and behavioural skills, in-depth courses on technical skills, and programmes linked to regulatory and security issues, which may focus on Anti-Money Laundering, Banking Transparency, Privacy and Market Abuse, without forgetting the special attention paid to issues relating to Cyber Security, considering the new strongly digital-oriented landscape.
The figures relating to the training activities carried out bear witness to the continuous attention paid by the Bank and Top Management to the development and constant updating of skills, stimulating the desire for growth and the importance of these activities in facilitating employee engagement, fostering a positive work environment, supporting the corporate culture, including remotely, facilitating relationships of trust and increasing team spirit. In 2020, 48,805 hours of training were delivered in Banca Generali, in line with what was achieved in 2019 (48,021), despite the massive redesign of activities, both in terms of methods and content. The average number of training hours provided to each employee was 51, once again exceeding the defined target of 48 training hours per capita.
For us at Banca Generali, sustainability is a real strategic orientation and, in this regard, in 2020 we implemented several initiatives on the subject, in addition to the creation of a work team of 27 colleagues defined as ESG Champions: this transversal team supports the dissemination of sustainability issues within the various structures of our Bank. Below are our sustainability initiatives:
Off-site Sustainability: a workshop dedicated to the Management Committee, with the involvement of a number of colleagues under 30, during which the working team was able to discuss the creation and implementation of projects linked to sustainability within the Banking Group;
Road to sustainability: a cascade dedicated to all Banking Group employees during which each Top Manager was able to share with the teams their current and future projects relating to sustainability;
Training pills "Journey to discover Sustainability": four training video-pills offered in e-learning mode, aimed at informing all our employees about the context in which sustainability operates, what tools are available and, in particular, how Banca Generali has interpreted the concept of sustainability internally;
BG4SDGs: a cross-functional project, which will continue in 2021, combining communication, sustainability and photography. The initiative was born from the idea of wanting to visually represent the 17 SDGs by looking at sustainability through the eyes of Banca Generali.
Find out more on our Training section.
| | 2018 | 2019 | 2020 |
| --- | --- | --- | --- |
| Training hours per employee | 39,182 | 48,021 | 48,805 |
| Average training hours per employee | 45 | 54 | 51 |
Financial advisory training
In order to be at our clients' side to meet all their household and corporate needs, we have always been careful to train our network of financial advisors.
Training, in fact, plays a fundamental role in developing technical and relational skills and responding to growing professional challenges.
To this end, we invest constant attention in the development of training courses dedicated to the protection of clients' personal data, in accordance with current privacy legislation, to anti-money laundering regulations and, in step with technological development, to timely in-depth study of Cyber Security issues.
Consistent with our Vision and Mission, since 2018 a major training investment has been made on sustainability issues, with the aim of creating and increasing a culture linked to sustainable investments and giving Clients a valid offer of solutions that contribute to global development, generate positive social impacts and protect the environment.
In 2020, 113,000 hours of training were provided at Banca Generali, slightly down on the figure for 2019 (123,000), due to the reorganisation of the delivery system from "physical" to "digital". The average number of hours of training provided to each Consultant was 54, again exceeding the defined target of 48 hours of training per capita this year.
We, as Banca Generali, have been providing our financial advisors, since 2018, with a single digital channel dedicated to the world of training (BG Lab) where advisors have the opportunity to access all the news and content related to their training path. BG Lab represents the tool to enhance the continuous training approach, based on the physical/digital integration that enhances all training moments through an engagement oriented to learning and self-learning. BGLab is also the e-learning platform used by Banca Generali employees with a view to integrating and sharing information and know-how between headquarters and the advisory network.
At the beginning of 2020, we also inaugurated the new BG Training&Innovation HUB, a space dedicated to training and innovation in all its forms. The HUB is intended to be the centre of in-person training, hosting a number of classrooms dedicated to our network of consultants.
| | 2018 | 2019 | 2020 |
| --- | --- | --- | --- |
| Training hours per distribution network | 124,932 | 123,000 | 113,000 |
| Average training hours for Financial Advisors network | 62 | 60 | 54 |
The enhancement of people, attention and commitment to employees, respect for human dignity, freedom, equality, equal opportunities at work and in career paths, without any discrimination, is what we base our success on.
At Banca Generali, we are always attentive to Diversity & Inclusion issues, which are factors of unity and dialogue within the organisation: managing diversity within the company is, for the success of the company itself, an essential necessity in an increasingly complex, globalised, interconnected world.
In order to give substance to D&I values from the highest levels of the organisation, in 2018 our Board of Directors approved the Diversity Policy for Members of the Corporate Bodies, which is reviewed at least once every two years and whose latest update is effective from 23 February 2021.
We have built training courses and company policies to promote D&I issues, to encourage an inclusive culture that supports our people in expressing their potential, each with their own experience and cultural strength, regardless of the dimensions in which diversity is declined. The three dimensions that characterise the activities carried out on behalf of our employees are:
Improving the work-life balance, through hourly flexibility and widespread smart-working; interventions to support maternity/parenting and disability; thematic workshops dedicated to employees' parents and children; programmes dedicated to nutrition and wellbeing issues;
Attention to the issue of age/generations, through cross-functional projects aimed at knowledge sharing, development paths dedicated to young people and mentoring programmes to promote intergenerational exchange;
Constant commitment to gender issues, through training to support the development of female leadership; selection and hiring governed by inclusive and equal guidelines; managerial training dedicated to People Managers on the topics of "Unconscious Bias", "Woman Empowerment" and "Diversity Management" and attention to the gender pay gap.
The set of Diversity & Inclusion principles is also at the basis of the selection and recruitment processes: these processes are based on impartiality and respect for diversity with the aim of identifying and selecting the best profiles.
With regard to equal opportunities for the differently abled, the national regulations protecting this category are respected and implemented, also from a logistical point of view: the buildings in which Group companies are based are constantly checked for compliance with architectural and workstation constraints, and provide parking spaces reserved for the disabled in the immediate vicinity.
Hiring under open-ended contracts
96% of total employment (962)
Average age of employees
45 years
New recruitment rate
10% (41,6% are women)
Iniziative per la Diversity & Inclusion
Creating an increasingly inclusive environment in which all types of differences are not only accepted but also valued is one of our priorities as the Generali Group.
Once again this year, we held the digital event #BeBoldforInclusion, in synergy with the BU, held on 8 March 2021, confirming our commitment to Diversity & Inclusion issues through mainly actions on two specific fronts:
Spreading a culture based on D&I issues through increasing knowledge sharing, strong collaboration between structures and specific training
Identification of KPIs related to D&I issues to monitor and support our path in defining an organisational environment that favours Diversity & Inclusion.
We firmly believe that building on a culture that promotes inclusion and diversity, consistent with our business objectives and the expectations of our customers, will be one of our main goals.
Monothematic webinars dedicated to the whole population, female and not, to support and develop self-leadership giving energy and creating empowerment towards one's own professional path.
The course has the ambition to pay particular attention to the development of female resources, to the construction of an Organisational Culture oriented towards inclusion and the enhancement of differences with a specific focus on gender differences to raise awareness among all colleagues of the main difficulties that women generally face in the workplace.
The focus on D&I has long been a cornerstone of our sustainable development strategy. Today, 50% of our colleagues are women, and many senior positions are held by young female managers. This confirms that our approach concretely rewards meritocracy, overcoming any gender bias.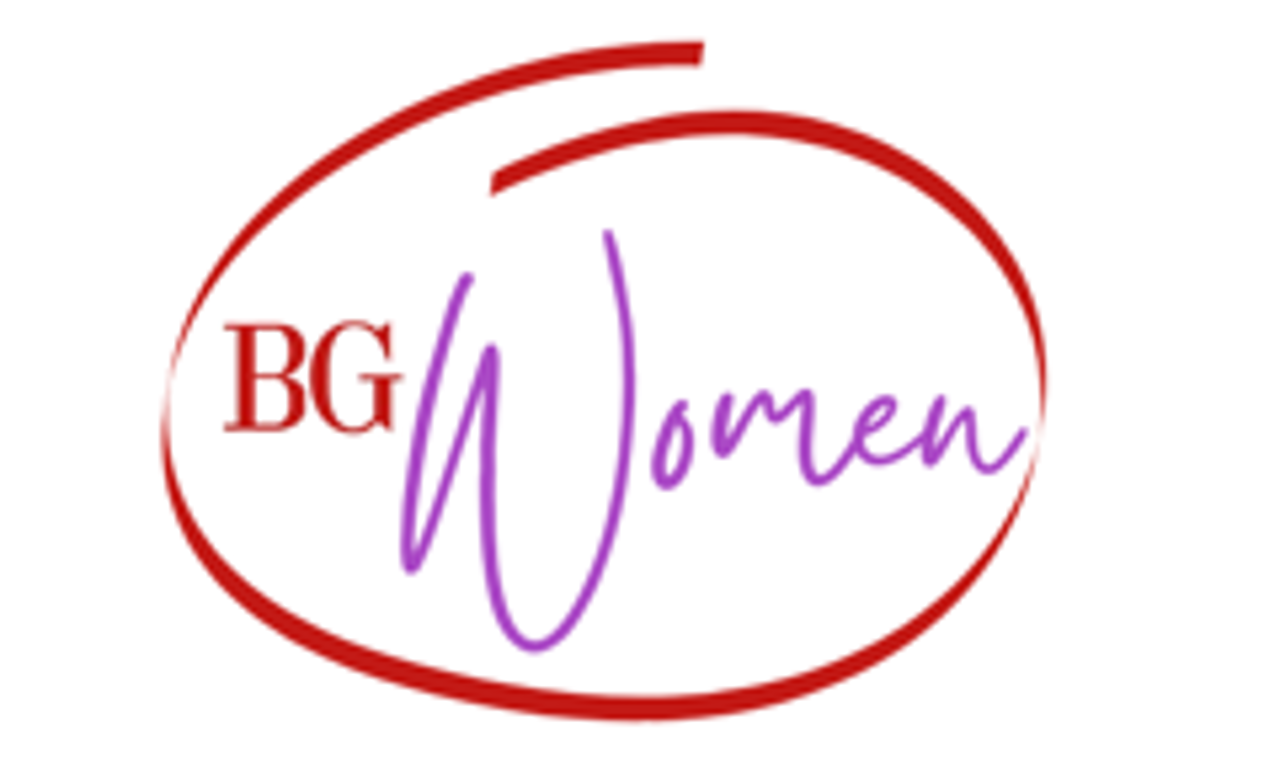 As part of the People Strategy initiatives, a development and training programme has been created for a selected pool of young people under 35, with the aim of creating and supporting a culture of talent while maintaining high levels of engagement.
Banca Generali intends to pay special care and attention to its young people through opportunities for growth that can make them further participants in building their role and professional career within the company.
With the support of the best internal and external educational excellences, the path designed is based on 4 key drivers that will be the basis of targeted training activities, experiential moments and discussions with top managers, mentoring activities that will keep participants engaged for more than a year.
The remuneration package for employees is supplemented by benefits that demonstrate the constant attention that the Bank pays to the personal needs and well-being of its employees, taking due account of working conditions.
Benefits may be differentiated by professional families and geographical areas but do not provide for individual discretionary schemes and may include welfare aspects, such as healthcare, supplementary pensions, financial compensation in the event of death, total and permanent invalidity and dread disease, the Welfare Option for the company bonus and pure Welfare.
In this context, Work-life balance plays a key role for our Bank, in line with the central role played by people.
Smart-working, which started with a pilot project in early 2018, had a significant development in 2020. The Bank used this method to safeguard the health and safety of people during the Covid-19 emergency by temporarily and exceptionally extending remote working to almost all employees.
Still in the area of work-life balance, our Bank provides facilities related to the reduction of working hours for reasons related to the needs of the employee or his family such as, for example, the birth or adoption of children and recognises, in addition to the right to take time off work in accordance with the law, paid leave for health services and discretionary periods of leave of absence that all employees can take, in addition to compulsory maternity and parental leave.
Find out more in the Work-life Balance section.
We observe trade union rights and freedoms, both as regards trade union organizations (corporate and territorial) and as regards individual employees. Social and national legislation and the provisions of the CCNL Credito or Credit Managers apply to 97.4% of employees.
At the end of 2020, the rate of membership (employees registered with unions compared to the total workforce in Italy) was 33%, unchanged compared to the end of 2019.
95% of employees are subject to social and national legislation, and the provisions of the National Collective Labour Agreement (Credit Managers). The sole exceptions are the employees of BGFML, Nextam Partners LTD and BG Valeur S.A., to whom the local legislation applies.
Trade union relations are conducted in line with the provisions of the law and collective bargaining (CCNL Credito and Contratto integrativo aziendale/CIA).
In particular, the system of trade union relations is developed through trade union meetings of an informative, confrontational and negotiation nature.
One of the most important opportunities for discussion is the "annual meeting" provided for by the CCNL Credit Agreement, in which the company and trade unions discuss strategic prospects (economic and business trends, main balance sheet data, new markets/products), the structural profile (data on total employees and main employment/management trends) and the quality of human resources (data/information on performance assessment processes, merit measures, training provided).
Other opportunities for discussion concern the dynamics of significant corporate transactions (e.g. mergers, acquisitions, major reorganisations).
With regard to actual negotiation meetings, the main topic is the supplementary company contract (CIA) for employees (white-collar and middle management) of Banca Geneali and Generfid (Italy area).
The current CIA contains specific provisions on important welfare issues such as health care, supplementary pensions, compensation in the event of death or total and permanent invalidity, work accident coverage, as well as regulating some organisational aspects concerning working hours (part-time for new mothers, flexible working hours, additional leave for medical/health reasons).
In addition, again at CIA level, specific facilities are provided for first home loans, personal loans and current account conditions (cash elasticity).
In the context of negotiations at the company level, smart working is also specifically regulated.
As this is a matter of collective bargaining, all employees in the clerical and managerial categories are covered. The only exception is for employees with fixed-term contracts, who are not covered by the facilities for home loans and personal loans.
Furthermore, in the implementation of the CCNL, the Prosolidar Foundation, active in the field of solidarity projects at the international level, was promoted. For 2019, approximately 601 employees have joined the Foundation by paying the required contribution, followed by a company contribution of the same amount.